Have you ever thought about making your own wine? Once you try it, you will never buy wine in the store again. Here is a very simple recipe.
Before you begin, there are two things you will need, that you may have around your house. First, you will need a one gallon glass jug. Second, you will need some balloons.
You can use a glass jug just like the one in this picture: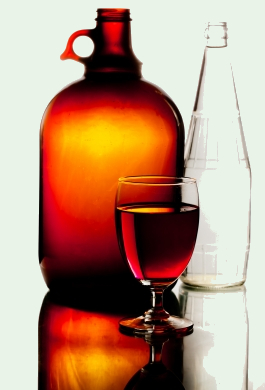 Now, let's make some homemade wine.
---
Ingredients
---
2 pounds of sugar
1 1/2 quarts of pure grape juice (purple, red or white)
1 package of yeast
---
Preparation
---
Put a tablespoon of bleach in the jug and fill it to the top with water. Empty the jug and rinse it thoroughly. This eliminates any bacteria that may be present, resulting in a better fermentation process.
Add the sugar to the jug using a funnel. Add the juice. Then, fill the jug with water almost to the top.
Dissolve the yeast in warm water and empty the mixture into the jug. Make sure the jug is filled to the top. You do not need any special kind of yeast to make this wine. You can use the kind from your local grocery store.
Stretch the balloon over the top of the jug, and put it away in a dark place.
After about 5 or 6 weeks, the wine will be ready to drink. You can keep it put away longer. The longer it ferments, the better the wine.
Finally, before you drink it, you will need to strain it to keep all of the residue from the yeast out of your wine. You can use a coffee filter for this.
Additional Tips
If you want this wine to be stronger, add more sugar. You probably will not need to do this. This wine will be strong enough.
If you ferment this wine too long, it will turn to vinegar. If this happens, you can still use it. This would be the best vinegar you have ever had.
---
There is nothing in the world like good, old fashioned homemade wine. Let me give you a word of caution. This is not store wine. It is much stronger. When you drink it, please do it in moderation. Otherwise, you will be feeling good for quite a while.
We hope you enjoy this recipe.
Conclusion
We hope you like this recipe. We also hope that you try it, and enjoy it.
If you have any questions about this recipe or any other recipe, please contact us, and we will be happy to answer them for you.
Please share this recipe with your friends.
AND:
Remember! At ShopGlad, we want your online experience to be enjoyable.