Did you know there is a difference between pancakes and hotcakes? A hotcake is smaller and thicker. That's the way I like it.
I didn't know what category to put this in, so I went with pastries, since many people refer to them as 'sliced pastry'.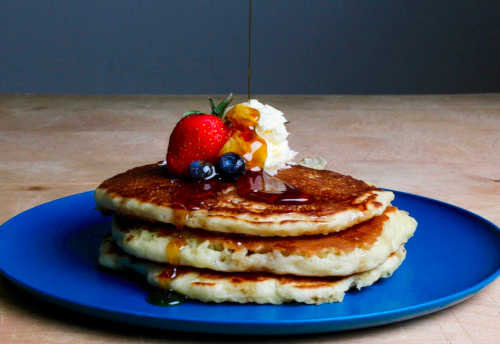 Here's a very simple recipe that I know you will enjoy.
---
Ingredients
---
1 1/2 cups all purpose flour
2 tsp. baking powder
1/2 tsp. salt
1 tbsp. vegetable oil
1 egg (beaten with a whisk)
1/2 to 1 cup buttermilk (Add amount to achieve desired thickness.)
---
Preparation
---
You're almost home free. All you have to do now is throw the ingredients in a container. I recommend you use a bowl with a pouring spout, so you can easily pour them on the griddle.
Mix the ingredients until the texture you like is there.
Melt some butter on a cast iron griddle or skillet. Pour the batter and make about 3 circles at a time. Cook on each side until golden brown, and YOU'RE IN BUSINESS!
ADDITIONAL NOTE: If you don't have buttermilk, you can use milk. If so, add a teaspoon of vinegar. The vinegar changes regular milk to buttermilk. In addition, I sometimes like to add a teaspoon of whiskey to my pancake batter. It does make a difference and it is so good. The only way you could tell the difference is to compare 2 recipes, one with and the other without whiskey. Finally, if you use self-rising flour, you don't need the baking powder and salt.
Conclusion
We hope you like this recipe. We also hope that you try it, and enjoy it.
If you have any questions about this recipe or any other recipe, please contact us, and we will be happy to answer them for you.
Please share this recipe with your friends.
AND:
Remember! At ShopGlad, we want your online experience to be enjoyable.