This is the best cinnamon roll recipe you will ever see. It may seem a little difficult the first time, but once you've made them a few times, you will almost be able to make them in your sleep. This recipe is so easy.
These sweets became popular across the continent, and when immigrants from Germany and Sweden arrived in the United States, they brought their recipes with them.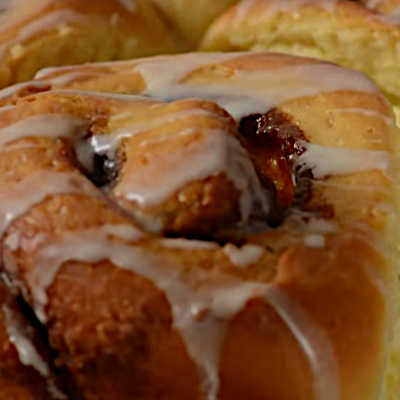 ---
Ingredients
---
The Dough
1 cup milk
1/2 cup sugar
1 tsp. salt
1/2 cup butter
1/4 cup lukewarm water
1 pkg. dry yeast
1 egg (beaten with a whisk)
4 cups plain flour
The Icing
1 1/2 cups powdered sugar
1 tbsp. milk
1 1/2 tbsp. butter
---
Preparation
---
Lightly scald the milk in a small pot on the stove top. Stir in the sugar, salt and butter so that the sugar is dissolved and the butter melts. Cool to lukewarm.
Preferably in a stainless steel bowl, dissolve the yeast in 1/4 cup of lukewarm water and add to the milk mixture. Add 1/2 of the flour and the egg and beat by hand until smooth. Add the rest of the flour. This will make a fairly stiff batter. Cover tightly and cool for 3 hours.
Using 1/2 of the dough, knead it several times and roll to an oval shape. Spread the top with softened butter (you choose amount) and sprinkle a mixture of cinnamon and sugar on top of the butter. Roll up jelly roll style and cut into 1/2- inch slices. Place in a greased pan and allow to rise for an hour or so. (At this point, they may be cooked or placed in the refrigerator until needed.) Place rolls into a cold oven when ready to be baked.
For the icing, simply put the ingredients in your KitchenAid mixer, and beat until the desired thickness is there. If you need to add more milk, by all means, go for it.
Preheat oven to 350°F and cook until lightly browned (about 20 to 30 minutes). Watch them very closely. Top with a simple powdered sugar icing. Because this dough contains an egg, use the dough within 3 days.
Here's a nice alternative to the icing: In a small pot on the stove top, add about 3 tablespoons of Apricot jam, and about 2 tablespoons of powdered sugar. Brush the cinnamon rolls in the form of a glaze with this mixture when they come out of the oven.
Finally, if you like, you can always add some raisins and pecans. Just srinkle them on the dough after the mixture of cinnamon and sugar on top of the butter.
Conclusion
We hope you like this recipe. We also hope that you try it, and enjoy it.
If you have any questions about this recipe or any other recipe, please contact us, and we will be happy to answer them for you.
Please share this recipe with your friends.
AND:
Remember! At ShopGlad, we want your online experience to be enjoyable.