This is the counterpart to our Basic White Cake Recipe.
With both recipes, it is much better to make a cake from scratch, instead of from a box of cake mix. One reason is, it tastes much better. But the real reason is, the cake will last longer. Remember, when preparing a recipe with eggs, don't let it sit out on the counter for more than a few days. The best thing about this recipe is, you can keep it in the refrigerator, or, you can freeze it.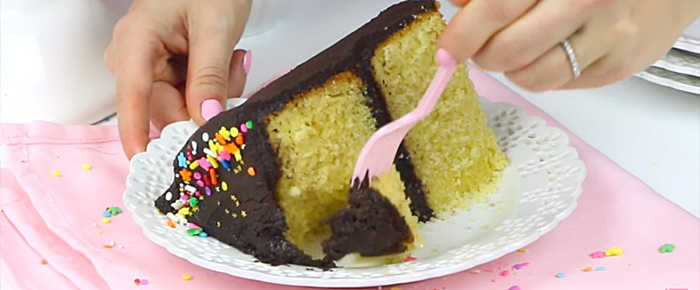 ---
Ingredients
---
2 1/4 cups of all purpose flour
1 1/3 cups of sugar
3 teaspoons of baking powder
1/2 teaspoon of salt
1/4 cup of unsalted butter
1/4 cup of vegetable shortening
1 cup of milk
2 eggs
1 teaspoon of pure vanilla extract or lemon extract
---
Preparation
---
Preheat oven to 350° F. Grease and lightly flour 2 round cake pans or 1 loaf pan, and shake off excess flour. If you like, you can line the inside of the cake pans with parchment paper, or spray them with non-stick spray. The pans should be filled 2/3 full.
In a large mixing bowl, whisk the dry ingredients together (flour, sugar, baking powder and salt). Add the butter, shortening, milk and the vanilla or lemon extract.
Beat for 1 minute. stir in eggs. Beat on medium speed for 2 minutes.
Bake in preheated oven for 30 to 35 minutes for round cake pans, and about 45 minutes for loaf pan., or until you can insert a toothpick into the cake and it comes out clean.
Remove, and let it cool for about 5 minutes. Insert a knife between the cake and pan to carefully remove the cake.
Finally, frost between the layers, and all over the layers with your favorite icing, and,
Enjoy!
Conclusion
We hope you like this recipe. We also hope that you try it, and enjoy it.
If you have any questions about this recipe or any other recipe, please contact us, and we will be happy to answer them for you.
Please share this recipe with your friends.
AND:
Remember! At ShopGlad, we want your online experience to be enjoyable.