---
Shop online while supporting a charity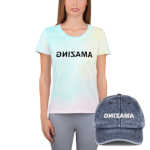 Two young women had a friend who tragically passed away much too early in her life. In honor of her memory, the two created a website that describes their friend in one word.
The Amazing Campaign
This is one of the most heart warming website we've ever seen, The Amazing Campaign. In their friend's memory, the two young women have created an online store with merchandise that says AMAZING backwards. Wear one of their shirts, and you can look in the mirror and SEE how AMAZING you are!! The revenue from the sale of their merchandise goes to, The American Foundation for Suicide, The Trevor Project, and Samaritans. I strongly encourage you to check out this wonderful website. WELL DONE, LADIES!