---
How to get hotcakes and pancakes more fluffy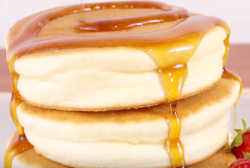 Actually, there is a difference between hotcakes and pancakes. Hotcakes are more fluffy. Here are 2 ways to get them more fluffy.
First, before adding the egg to the recipe, separate the white from the yolk. Then, beat each with a hand mixer until they are stiff. If you don't have a hand mixer, or, just don't want to take the time to do this, a whisk will work just fine. You don't have to separate the egg when you use a whisk. Just beat the egg for about 3 minutes before adding it to the batter.
Second, make sure your better is thick, but not too thick to pour on the griddle. Remember, you're making hotcakes, and not crepe suzette's.
Check out our very simple recipe for hotcakes. And most important, ENJOY!